BigQuery
BiqQuery is a data warehouse that allows you to deal with massive datasets, on the cloud. It's highly scalable, with BI engine and Machine Learning (ML). There is no infrastructure to manage, you can focus on uncovering meaningful insights.
BigQuery runs fast SQL queries on gigabytes to petabytes of data, allowing you to focus on the analytics, rather than the technical infrastructure.
Data Studio
Data Studio is a data visualization tool that can be easily used by non-BI specialists. It allows to create model specific to customer needs. Data Studio leverages BigQuery data to generate easy-to-create and interactive dashboards. When Data Studio is combined with BigQuery BI Engine, data exploration and visual interactivity takes only sub-seconds over massive datasets.
Facilitating advanced reports for Enterprise Mobility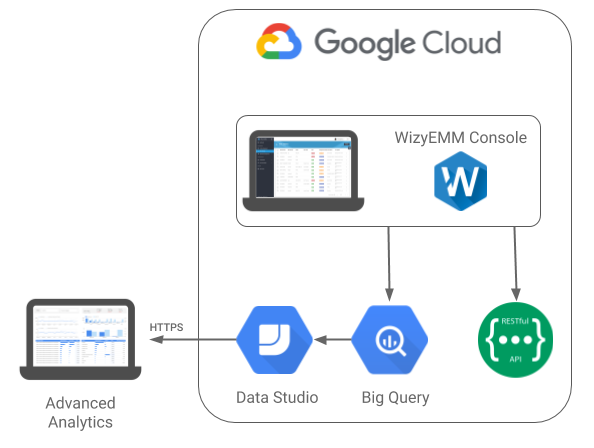 No need to be a BI expert to exploit insightful data. With Data Studio, BI is facilitated, and allows you to do predictive analysis.
At WizyEMM, as we are 100% SaaS Cloud on Google Cloud Platform, our choice naturally went to BigQuery and Data Studio to provide advanced analytics to our customers. This allows customers to exploit Mobility data, to get real information about their fleet. For example, with historical data about the battery health of their fleet, they can predict the date of change of the battery, predict maintenance needs, and prevent downtime equipment, or any helpful information that comes from the EMM, such as business specific data.

Tell us what type of information you or your customers are looking for in order to improve the management of their fleet of devices:
WizyEMM Big Data – 5 minutes Online Form
Your input will contribute to build a solution aligned with your customer needs.