What is zero-touch
New in Android Oreo 8.0, zero-touch enables large-scale Android deployments across multiple device providers with no manual set up. End users just open the box and start using the device with apps and configurations all set.
Let's have a deeper look at what lies behind the zero-touch technology.
Why
If you are familiar with Samsung KME or Apple DEP programs, you already have an idea of why Android proposed zero-touch.

Thanks to zero-touch, a company can deploy a large fleet of corporate owned devices, industrialize bulk enrollment without manual setup on each device

Users just open the box and start with configurations and applications all set.
The configuration will persist even after factory resets, making the devices theft proof.
How
Google has been working with Samsung, Huawei, Sony, LG, Nokia, BlackBerry, HMD Global, HTC, Honeywell, Zebra, Sharp, Sony and with other OEMs to provide the zero-touch feature. You can find a list of all compatible devices on Android Enterprise website.

Enabling zero-touch comes in 4 steps: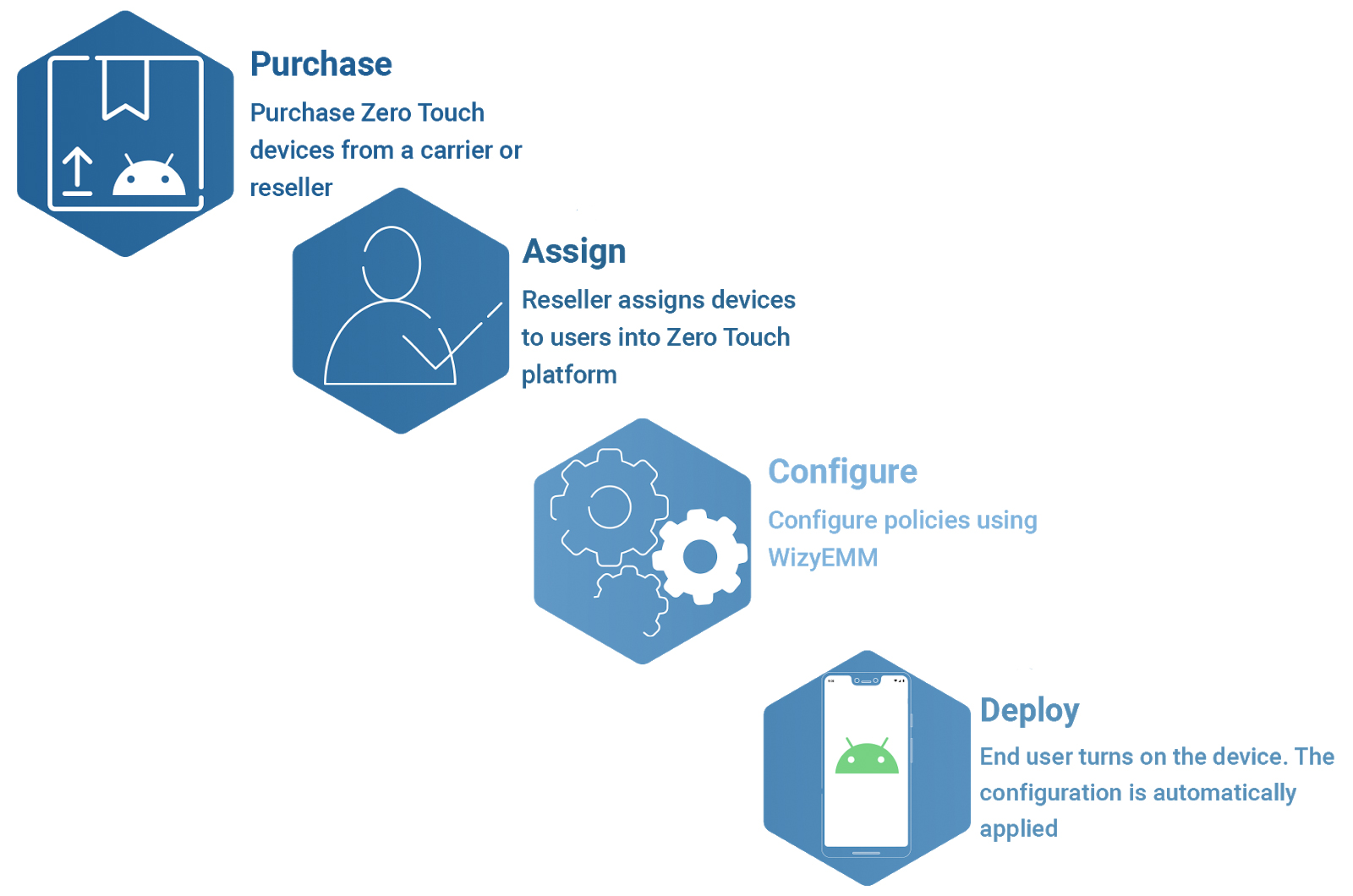 Purchase zero-touch compatible devices from authorised resellers (and not from a consumer store)
The reseller creates a new zero-touch enrolment account on partner.android.com/zerotouch
The enterprise configures the policies into the EMM (mandatory MDM management)
The end user simply open the box, turn on the device, insert a SIM card or configure Wi-Fi, and that's it! Device will automatically enroll with EMM and apply policies when powered on
On first boot, the device check to see if they've been assigned an enterprise configuration. If so, the device initiates the fully managed device provisioning method and apply the correct device policy controller.

Zero-touch only works with an EMM that makes the technology available. WizyEMM provides Android zero-touch enrollment.
During devices setup, WizyEMM companion app will be downloaded automatically, and it will push the associated policies to the device, based on the user account.