Applications exclusively available for enterprise users are considered private apps. Using private apps can be beneficial for companies as it provides full control over features and capabilities. Frontline workers may also be encouraged to adopt the app as it carries the same company brand. For the management team, private apps can provide deeper insights into user behavior which can be used for improving workflows and identifying bottlenecks.

The usual challenges for admins managing fleets of devices include securing and managing applications. This can be easily solved by partnering with an Enterprise Mobility Management (EMM) provider such as WizyEMM. Having adopted the Android Enterprise framework early, WizyEMM is a proud Google Cloud partner and considered a pioneer in the EMM SaaS field. Here's a primer on the benefits of using a Mobile Device Management (MDM).

Using WizyEMM's intuitive and ready-to-use console, private apps management for your company becomes a breeze. Here we explore the ways admins can manage private apps: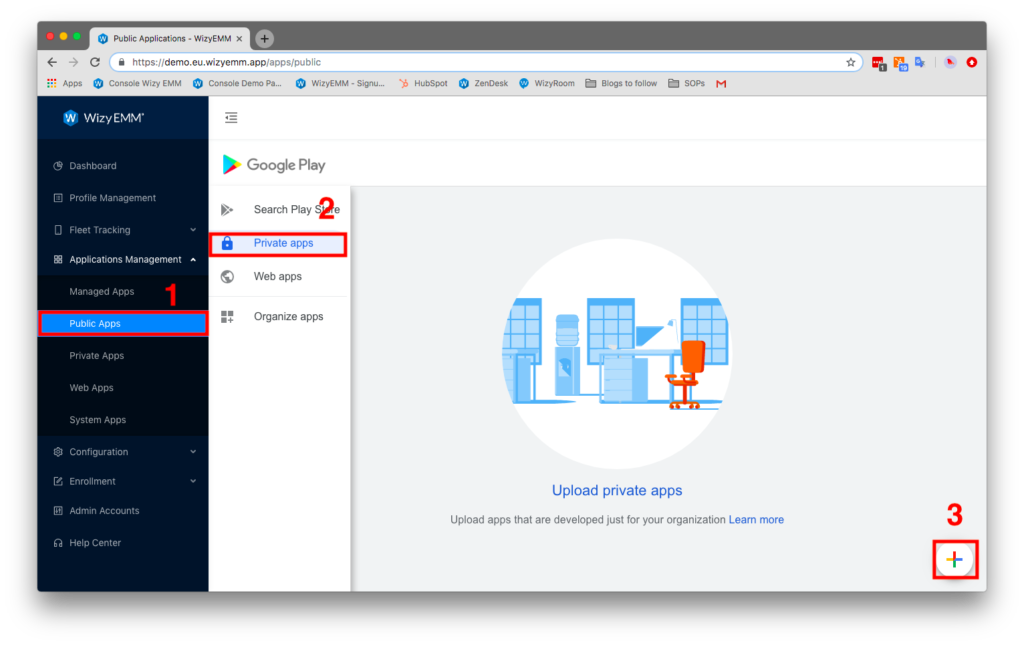 Upload to the Managed Google Play Store
Hosting your company's private application on the Managed Google Play Store offers some key benefits. Namely:
High-uptime for Google servers
Automated device compatibility testing
Google's enterprise-grade security
Easy administration by offloading server management to Google
Uploading your private apps can be easily done on the WizyEMM console! True to our credo of an intuitive and user-friendly experience, we've integrated this feature on the Applications Management section. Click on the plus button, set an app name, then upload your APK. As easy as that.
Easy distribution to multiple organizations
A sound application management practice involves running tests in various environments to iron out kinks before deploying apps to users. WizyEMM allows you to manage multiple testing environments (testing, staging, production) through multiple accounts. You can easily distribute private apps to these environments through your Google Play Console.

We prepared a handy guide here.

Option to host apps on your private server
Some organizations prefer to host private apps on their own servers and just use managed Google Play infrastructure to manage app installation. The process involves uploading a JSON file containing the app's metadata to the Play Console.

The process can be tricky but we prepared a detailed guide here.

Update private apps in a few clicks

So far, we talked about hosting private apps, installing them remotely, as well as distributing to testing environments. All these can be done on the WizyEMM console. Additionally, you can upload private app updates! From your WizyEMM console, when on a private application page, click on the Make advanced edits link. You can read our how-to guide here.
WizyEMM is a trusted MDM solution by industry experts in logistics, healthcare, supply chain, among others. If you're looking for a well-rounded solution for managing private applications, feel free to set a demo
here
.