The end of January 2021 looked bright for small and medium-sized businesses (SMBs). Google launched Android Enterprise Essentials (AE Essentials) specifically designed for SMBs to secure their fleet of devices. The solution is aimed at being affordable, quick to deploy, secure, and easy to manage.

Up until the launch of AE Essentials, legacy EMM solutions not built on Android Management API (AMAPI) generally trended toward complexity. This was mostly driven by customer requests to address specific use cases. Google, however, noted that many businesses are underserved and in fact, 85% of which (mostly SMBs) only need simple mobile device solutions.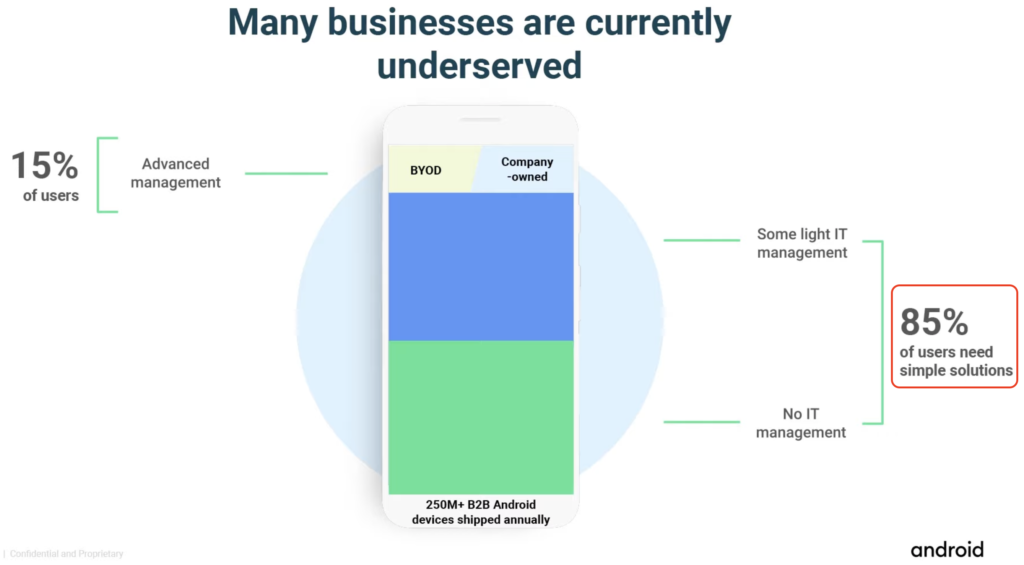 To understand all the buzz around Android Enterprise Essentials (AE Essentials), let's talk about the framework it's built on, Android Enterprise. Launched with Android 5.0 (Lollipop), Android Enterprise started as an optional set of device management APIs back in 2014. It has since evolved into a modern management framework with a couple of benefits:
A robust set of enterprise APIs for mobile management
Secure app deployment using Managed Google Play
Enterprise Mobility Management (EMM) solutions are built upon the Android Enterprise framework. They package sets of APIs, technologies, and policies so IT admins can manage mobile devices within an organization. EMM providers predominantly cater to large scale mobile device deployment and management.

The challenges of the times saw an increase in workers using mobile devices to fulfill their tasks. This also raises the issue of security as these mobile devices face increasing threats due to non-secure access to company data or device loss/theft.

This brings us finally to Android Enterprise Essentials. In a nutshell, it's a simplified version of a full EMM focusing exclusively on securing the device without managing it. By reducing complexity and offering a focused solution of zero touch enrollment, remote wipe, enforced screen lock, and streamlined console, it aims to address the 85% comprising non-managed Android devices. As of launch, early access to AE Essentials is available via resellers in the US (CDW and SHI) and the UK (Bechtle, Chess, Intercity Technology, and Tela).

Does this mean that Google is positioning itself to directly compete with the existing EMMs? I think not. EMMs offer solutions that can address very particular niches. However, with AE Essentials entering the market, here are a few lessons EMMs can take from the game changing launch.

EMMs need to step up by scaling down
I'm referring to packaging a simplified solution that's cost effective, secure, and easy to use for SMBs worldwide. While AE Essentials is currently available in 2 countries, the issues of device security, easy deployment, and cost effectiveness are real hurdles faced by struggling businesses across the globe.

A major, if not the biggest, limitation becomes apparent. AE Essentials is only available to SMBs buying new devices from Zero Touch authorized resellers. The market is further narrowed down as it's only available in two countries. This leaves out a considerable market comprised of:
new devices sold outside the network of Zero Touch authorized resellers
existing devices used by SMBs worldwide
We're talking about an estimated 95% of existing but left out devices as they can't access the benefits of AE Essentials. EMMs can augment this major limitation. They can cater to this sizable market as they have the flexibility of securing devices not only through Zero Touch but other enrollment methods as well such as QR code (compatible with Android 7.0+) or enrollment token (compatible with Android 6.0+).

EMMs need to support Frontline Workers
Frontline Workers comprise the overwhelming majority of mobile device users. A 2018 survey pegged this at 2.7 billion employees (Source: link). This includes those dubbed as economic frontline workers who man delivery services, health services, hospitality, etc. They stand to benefit the most from an Android Device Management solution that's geared towards ease of deployment and the native security from Android.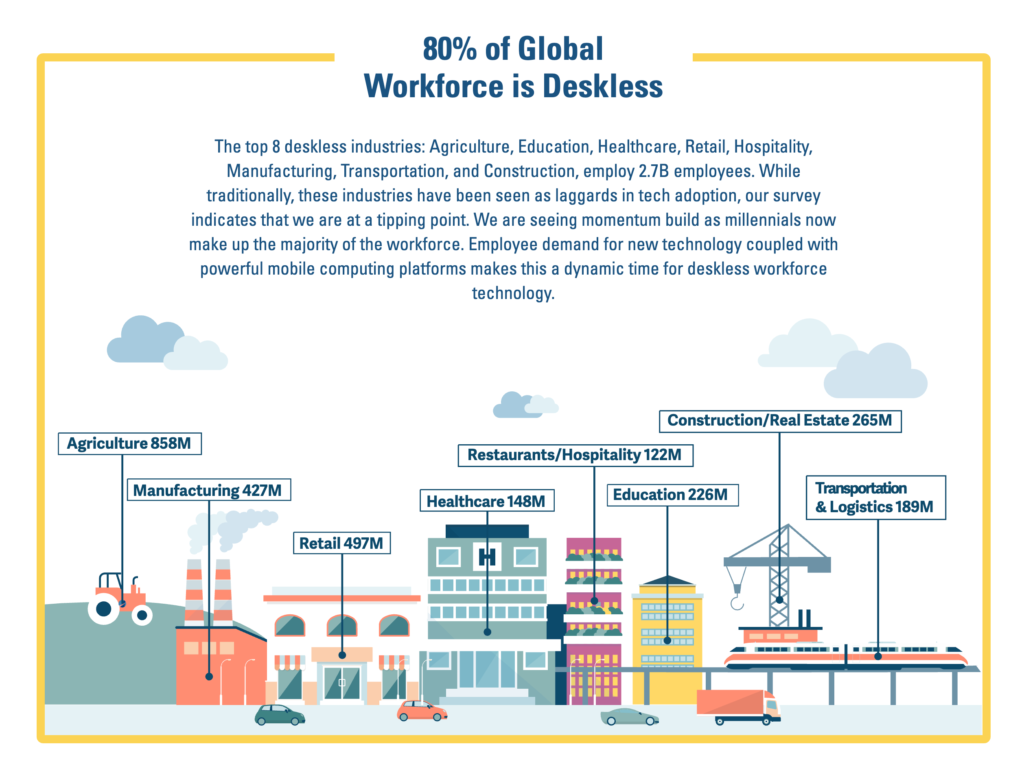 EMMs need to help SMBs worldwide
EMMs can take the cue from AE Essentials in bringing the benefits of streamlined device management to 95% of the existing but left out devices. They can leverage their established presence in key regions with the end goal of empowering SMBs through secured devices.

Both AE Essentials and EMM solutions are built on the Android Enterprise framework. The Android ecosystem is famous for using Open Source Software and with this, the multi-layered security features of sandboxed applications, verified boot, and Google Play Protect.

It's a known fact that EMM providers have been around for quite some time.

WizyEMM, the premier Android Device Management for Frontline Workers, has taken up the challenge of helping cover the 85% of non-managed devices. WizyEMM has been at the forefront of building on AMAPI. In doing so, it gained a reputation of being an easy, smooth, and natural migration path for organizations. Especially so for those that have used Android Enterprise but need more sophisticated EMM tools. It offers a solution that are:
100% cloud based
Easy enrollment for non tech people
Works with or without zero touch, for existing park of devices
Covers frontline workers with a secure device
Kiosk mode available
If you're excited to try out an Android device management solution,
sign up
for a free trial at WizyEMM or reach out to our
Support Team
.