Last week I was lucky to attend the 2018 Android Enterprise Summit in London, invited as EMM Partner of Android Enterprise, with our dream team Jeremy Rochot and Florian Ponroy.
Remember how Android has taken by storm the mobility scene for consumers, from 4% market share in 2009 to 78% in 2013 and 86% in 2017. Android is now getting dead serious in the Enterprise segment, about to repeat the same trick in the Enterprise world.
Check these amazing numbers for 2017: 380m Android phones shipped for business use and 10X growth in enterprise activation.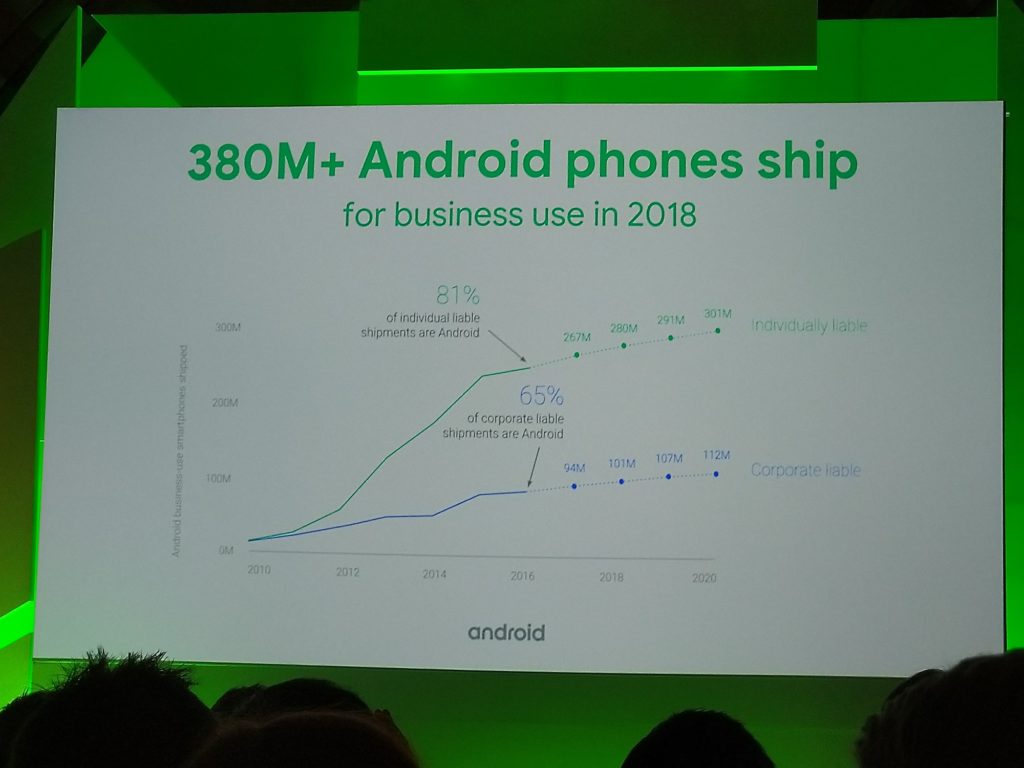 Before I give you my insights on Android Enterprise strategy, you can find a great coverage of Android Enterprise summit on Jason Bayton Blog. Jason is one of the best consultants and bloggers in the field of Enterprise Mobile Management solutions.
Android launched Android Enterprise in 2015 (formerly known as Android for Work) and has already reached 30% of the Enterprise market share in 2017, competing with:
Apple, leader in the tablet & mobile phone segment.
Microsoft CE, declining leader in the the ruggedized endpoint devices segment after announcing the end of life of the various OS versions between 2018 and 2020.
Android Enterprise will achieve dominance in the Enterprise market, based on their 3 steps approach:
Step 1: Embed Enterprise management features & security at the lowest level of the OS for BYOD and Corporate owned devices. It has started with Android 6.0 Marshmallow, improving with Nougat and Oreo, and it will reach maturity at the end of 2018 with the next version Android P.
Step 2: Open API's for EMM's Partners to plug directly in Android secure Enterprise management layer, independently from the device manufacturer features.
Step 3: Set up an ecosystem of partners, with the one's best aligned to their strategy reaching "Recommended by Android Enterprise" status.
To keep this post short, I'll talk more about each step in separate blog posts.
This 3 steps approach will reach maturity by the end of 2018 with a huge impact on the market of Enterprise mobility, from Smartphones to VR Headsets: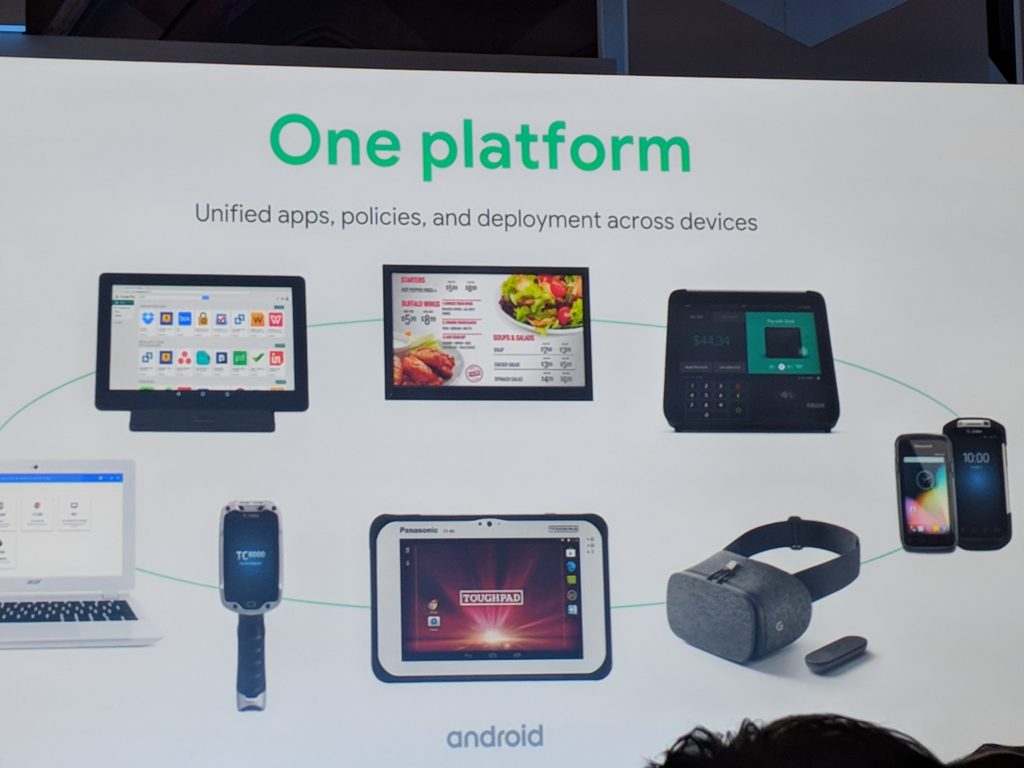 Android's new Zero Touch program is going to democratize Enterprise Mobility for SMB's worldwide, opening a new untouched market.
SMB customers will be able to order Enterprise managed devices directly from Android Zero Touch approved resellers. At first connection, the devices running Android Oreo will be automatically controlled by the EMM solution chosen by the customer. Provided that SMB's have chosen a Cloud SaaS EMM, they will get a fleet of managed & secured devices running in a couple of days without the need of complex and expensive projects. With the Zero Touch program, Android is catching up with Apple Device Enrollment Program.
Android Enterprise Recommended Program, currently live for devices, will make it simple for Enterprises to select Devices, Carriers, EMM's and Manage service providers. Transparency & simplicity will be a major disruption in a market known for its complexity and high costs.
Leading Enterprise Mobile Management (EMM) providers like VMWare, Mobile Iron or SOTI will see their business model disrupted by
the ever growing value provided by Android embedded enterprise features, enabling easy migration between solutions,
Microsoft Intune and GSuite free EMM solutions for GSuite and Office 365 customers. Both EMMs will be the obvious ideal solutions for no frills control of employees smartphones & tablets, BYOD or Corporate owned.
New Low cost Cloud SaaS EMM, built directly on Android enterprise API's, like WizyEMM (Disclaimer: I am a founder & CEO of Wizy)
Carriers, System Integrators and Managed Service Providers will need to review their business model, or miss new market opportunities enabled by Android Enterprise.
In a nutshell, Android Enterprise strategy & programs will:
Drive adoption of Android devices on new untouched markets: SMB's worldwide and most enterprises in Asia, Latam and Africa.
Lower the cost and increase the speed of mobility projects in existing major markets: Europe, USA & Japan
That's why I am betting that Android Enterprise will become leader in the Enterprise Mobility segment from 2019, with Apple as a distant second from 2020.
PS: Thanks to the amazing Android Enterprise management team for the Summit in London, and to Antonio Alonso for inviting us.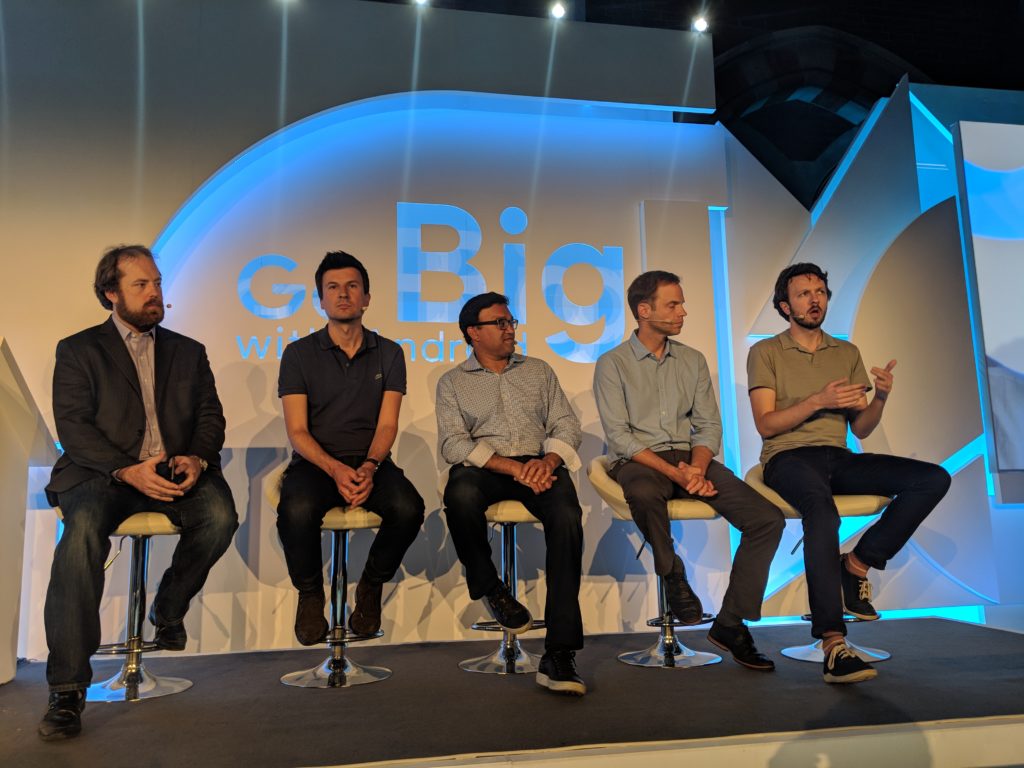 From Left to Right: Sean Ginevan Head of Global Strategy & Market Enablement, Andrei Popescu Engineering Director, Anwar Haneef Product Commercialization, Strategy & Go-to-Market , David Still Managing Director, Travis McCoy Group Product Manager.